Charlie Update: January 2011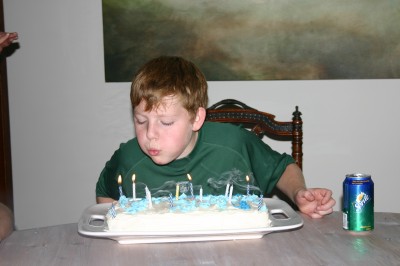 CHEERS TO CHARLIE!!!!!!!!!!
With your love and support, 2010 turned out to be Charlie's championship season. With his final chemo treatment in March, Charlie tackled his symptoms, sacked his cancer, and continues to be in remission! In August, Charlie underwent surgery to have his mediport removed! It was truly a milestone, and a day we thought would never dawn.
Medically, Charlie will continue his monthly checkups. After a year, those visits will be bi-monthly, along with routine blood counts and vigilantly watching for any long-term chemo and radiation effects. The plan is to reach a three-year remission goal since a relapse for blood diseases typically happens within the first two to three years post-treatment. Once that 'red zone' is reached, we'll press onward to reach the five-year, cancer-free goal line! By then Charlie will be a high school senior. At that point, we will proudly strap on his wings and let him fly!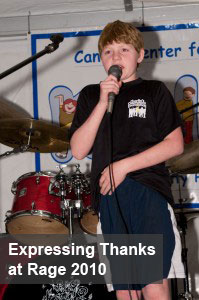 But for now, it's back to being a regular kid—and keeping the legend going! First of all, Charlie's confidence is never on cruise control. He doesn't let his guard down and works hard to succeed in everything he does. So despite some painful chemo and radiation side effects, Charlie hung in there and played lacrosse with his buddies this spring. He wanted to be a leader that his team sees as out front, making the plays. Now, on the brink of even stronger body movement, he's working with professional trainers to help get him into 'playoff' shape. There's even talk of Charlie trying out for football in the fall. So watch out, Grandpa and Broadway Joe!!!!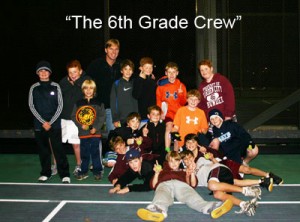 Academics are important too. Charlie's been working harder than any crunch-time quarterback to catch up with time he missed in school. Thanks to an educational grant from the RAMM event, Charlie was tutored at the Huntington Learning Center, where he spent much of this past summer building comprehension, mathematics, and writing skills. There were many beautiful summer days when we know he would have preferred sitting on a beach, but his grit and tenacity prevailed. Charlie kept his defensive moves at peak level, and his grades are a testament to that! Well most of them.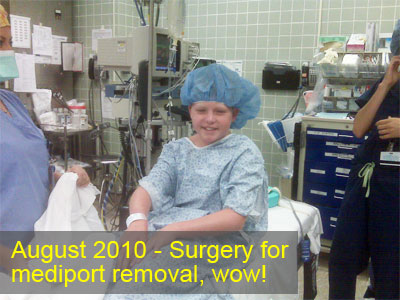 Maybe the best news of all came from "Make A Wish Foundation." Eight months into Charlie's treatment, the Foundation wanted to grant his wish. Too sick at the time, his only desire was to feel better. Five years later, Charlie's dream is finally coming true. He has chosen a family vacation to Hawaii where he can swim with the dolphins and Manta Rays; see waterfalls and volcanoes; and golf, surf, and visit with his Uncle Dennis who lives on the Big Island. Two other wishes on the table (meeting Derek Jeter or David Wright, lobbied for by his brother and sister) were trumped by the chance to pack our snorkels and sunblock, and head for Hawaii. Pretty cool to be related to Charlie!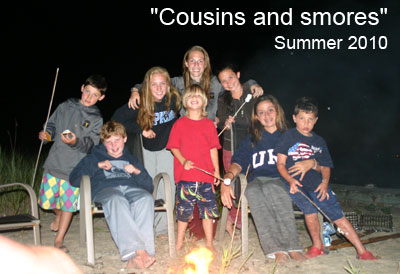 As we look ahead to 2011, we wrap our arms around all of you – our family, friends and neighbors. Your love and support have made the road to our personal Super Bowl a possibility. Whether you helped fundraise for our cause, or cheered us in the stands, we couldn't have done it without you.
Thanks to all of you, dear friends. Stay in touch with us and with Charlie's Champions. We continue our fight to help those little ones who deal with cancer each and every day. It's a tough road, but Charlie bounced back. And with your love and support, so can they.
All the best,
Tara & John Schmitt
Charlie Update: January 2010
A New Year brings reflections on the past, and more importantly, hope for the future. And Charlie's Champions has lots of both to share.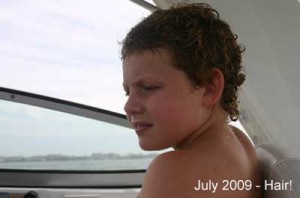 First and foremost, we have to tell you that Charlie remains strong and in remission. Over the past year his intense, daily chemotherapy treatments continued, according to a protocol encompassing a 12-month cycle of four-week rotations between oral and intravenous medications. Miraculously, his body handled these treatments well. He never once had to be admitted to the hospital during all that time; only intermittent low blood counts triggered an occasional delay in the cycle.
Just when we thought it was safe…a vicious H1N1 (Swine) virus reared its ugly head. With Charlie's immune system severely compromised by his relentless chemotherapy schedule, old anxieties surfaced, and we feared the worst: that he would be re-admitted to the hospital. But the CCFK doctors gave him 24 hours to fight the virus on his own. If fever and dehydration didn't progress, they promised Charlie that he could stay home and let the virus take its course.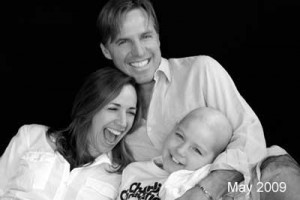 And did it ever. But Charlie battled back. Fiercely. He weathered this latest storm, and to our amazement, a week later, he was back on the basketball court! The experience served to strengthen our resolve since we believe it's a sign that Charlie's own immune system is doing what it's supposed to do! Whew!
Charlie kept battling on the personal front as well. He hates to be left out of anything, so his determination to succeed on the playing field and in the classroom transcended everything else. Schoolwork was a tremendous challenge. It's tough to read and study with a chronic, massive headache. But the threat of being left back a grade only made him try harder, and he came through with flying colors. Since athletics are Charlie's passion, he managed to waddle his way around the soccer field, and take a first try at lacrosse last spring. Who knows, looks like he might have a killer lefty over-the-shoulder shot!
Charlie is heading toward completion of his chemotherapy in 2010. Only a few more treatments to go. Can't wait! It's been five LONG years for this fella. We are all looking forward to celebrating Charlie's new start in life.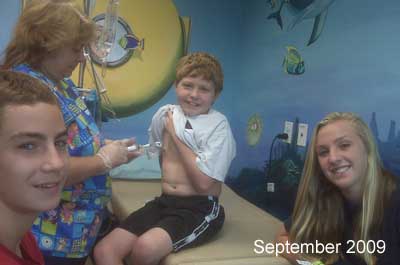 Much of the New Year will focus on regaining physical stamina and agility, and rebuilding Charlie's confidence. His natural athletic ability has been diminished by multiple years of chemotherapy, which have taken an enormous toll on his young body.
The CCFK doctors believe that with Charlie's indomitable will and determination, he'll be able to restore himself to physical fullness. As anyone who has tried to restore a physical injury or loss, it's not easy, and usually means more pain. But Charlie's flair for the spotlight should push him in the right direction. Our amazing support system—family, dear friends, Cancer Center therapists, physical trainers, swim coaches, soccer and lacrosse trainers– have already volunteered their time to get C-man back into shape, and help him move about freely and fearlessly. We'll see!
Five years—half of Charlie's life—have been spent battling leukemia, so he has a lot of catching up to do. What's tough for him to realize is that he's done a fantastic job, and he's got what it takes to cross that goal line.
As daunting as all this may sound, it's really exciting. The entire family is looking forward to supporting Charlie on his new path. All good things lie ahead. Just to see him kick back and enjoy life without the "worries" will be therapy enough!
Charlie's Champions Foundation is going strong. We have an ambitious schedule in place for 2010, with three main events on our calendar for the next six months. Stay tuned for our Annual Rage in the Cage Paddle Party, A Race Across America (yes, a team of eight cyclers will bike non-stop across this country in Charlie's honor), and a musical concert – Night of Rhythm & Blues. All in the works!
It remains a long and winding road. Thanks to all of you –family and friends– for your incredible, unconditional support. We could never have gotten this far without you.
Charlie Update: January 2009
It's been a long, tough year but Charlie's doing great, remains in remission. Pressing on with the "intense" portion of his protocol, he muscled through another years worth of chemo treatments in the hospital and wrapped up this phase with radiation treatments. The chemo treatments were administered once a month for a few days at a time in the hospital, and the radiation consisted of consecutive daily treatments to his brain and spinal area over a two week period.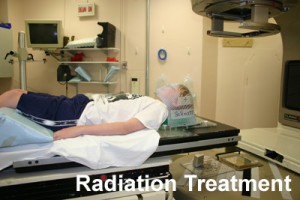 All pretty grueling for a 10 year old but Charlie is a kid with incredible strength. It's truly astonishing how he manages to go from a hospital bed to the baseball field, basketball court and let's not forget SCHOOL.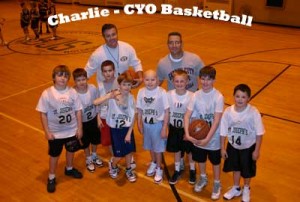 Once again he has lost his hair, that makes 5 times in the last 4 years. This past holiday season he joked about only wanting a head of hair for Christmas, his record is 1 for 4 in the past Christmas'. His sense of humor is commendable, deep down it's a tough look for a young kid to carry. He wears it well.
With the "intense" cycle concluded Charlie will start phase II of his protocol which is called "maintenance". Here he will take chemo pills every day for 52 weeks. He will no longer be required to stay in the hospital overnight but will have several day treatments in the cancer center. The chemo dose is lower than the past which will allow more normalcies in his life.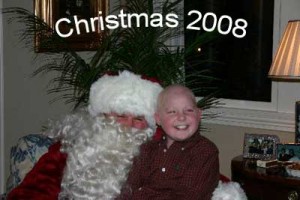 So things are Ok in Charlie's world. Thank you very much for all the kind thoughts, well wishes, prayers, treats and Lotto cards (he hasn't hit the jackpot yet but believes its coming!). Charlie's Champions continues to thrive. He loves coming up with new ideas of events to hold and apparel to sell. If you see him around town he's always got one of his Charlie's Champs shirts on, he has others but takes great pride in his own line – gotta love that.
Charlie Update: January 2008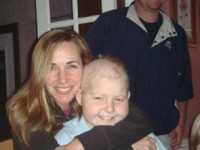 As most of you know Charlie, now 9yrs old has been battling acute lymphoblastic leukemia (ALL) for the last 3 years. He muscled through the first 2 1/2 years and was seeing some light at the end of the tunnel, unfortunately, in the summer of 2007; he had a relapse of the disease. Extremely uncommon for ALL yet always a looming possibility, this news was as devastating and more heart wrenching to us than the news of the original diagnosis. Thankfully, through monthly spinal tap procedures they were able to catch the newly charted leukemia cells early and immediately get them under chemotherapy and into remission.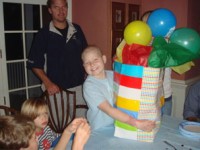 Although this sounds like a simple undertaking, and for some it can be, but in Charlie's case it meant double doses of steroids, more intense levels of chemo, introductions of additional chemotherapy and later, radiation. These new treatments are given to Charlie over 3-4 days at Winthrop Hospital approximately every 3 weeks. Basically, the normalcy in life he had just regained was turned completely upside down to a level of illness that is hard to comprehend. We are updating you on this not to dwell on Charlie's hardships but to THANK YOU once again for your love and support, without which our family could never get through these trying times.
Charlie's Champions Foundation has become the driving force which gives us hope for Charlie's recovery and faith in the goodness of all involved. We have seen first hand now the direct results of the Special Programs at the Cancer Center for Kids that Charlie's Champions supports: the Child Life Specialist, Child Psychologist, and Music Therapist. Charlie spends an enormous amount of time in the cancer center and these professionals help him understand and cope with adversities in life. These professionals are supported solely by your donations to the foundation. Thus the cycle of giving, supporting and healing becomes a reality and that all begins with YOU.
The amount of healing that is created by this cycle is astonishing. We can only tell you over and over again how grateful we are for your support. Charlie and all the other children benefit directly from your support.  ~ T.S.