GCHS Students Pedal for Pediatric Patients
On a rainy Sunday, more than 50 Garden City High School Miracle Club students came out to support the second annual Charlie's Champions Foundation Pedal for Pediatric Patients fundraiser. The event, held at the Roslyn Heights Soul Cycle, challenged the bikers' stamina and endurance. They, and their generous sponsors, raised more than $3,500 to benefit the NYU Winthrop Hospital Cancer Center for Kids.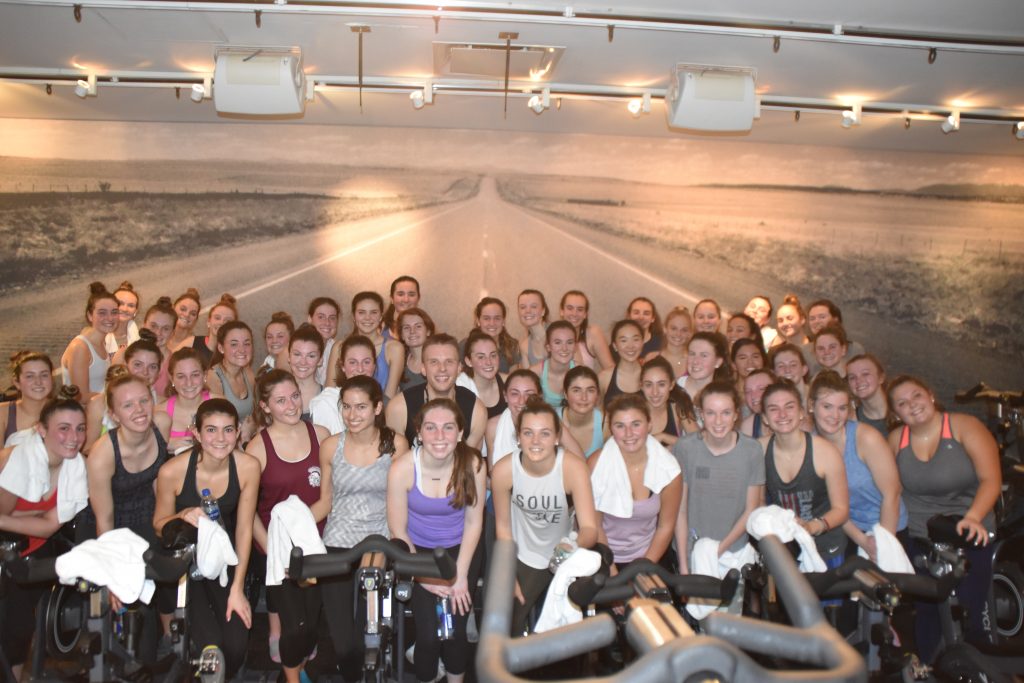 Juniors Amanda Cerrato, Lindsey Gambino and Rosie Sweeney were delighted to once again lend their support to pediatric cancer patients this year. "It was a tough workout," said Cerrato, "but the spin instructor, students, and music made it truly enjoyable."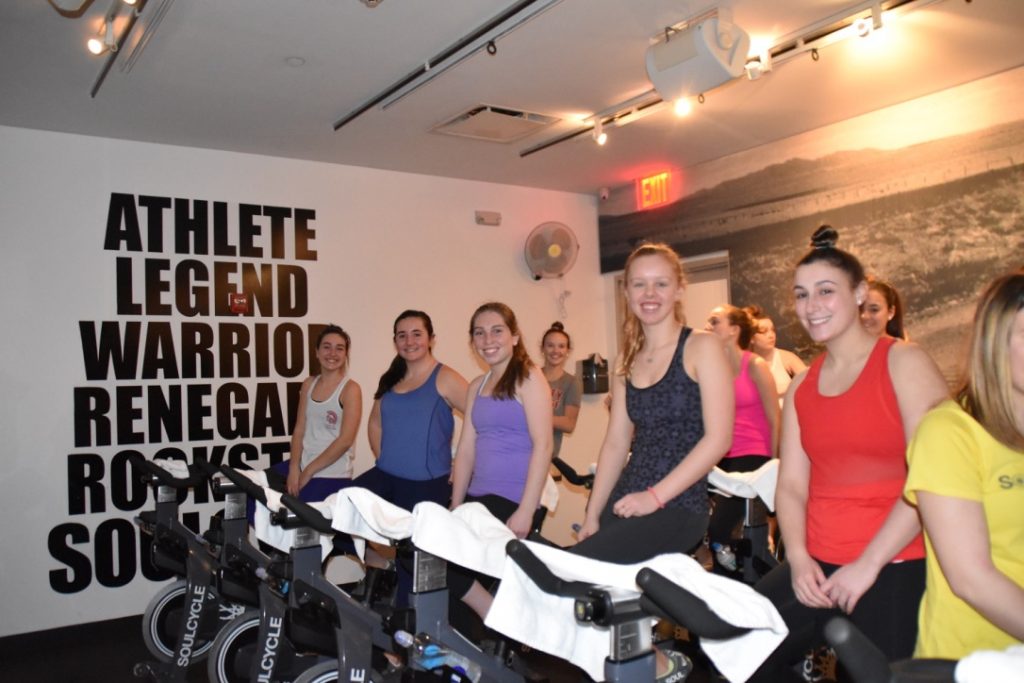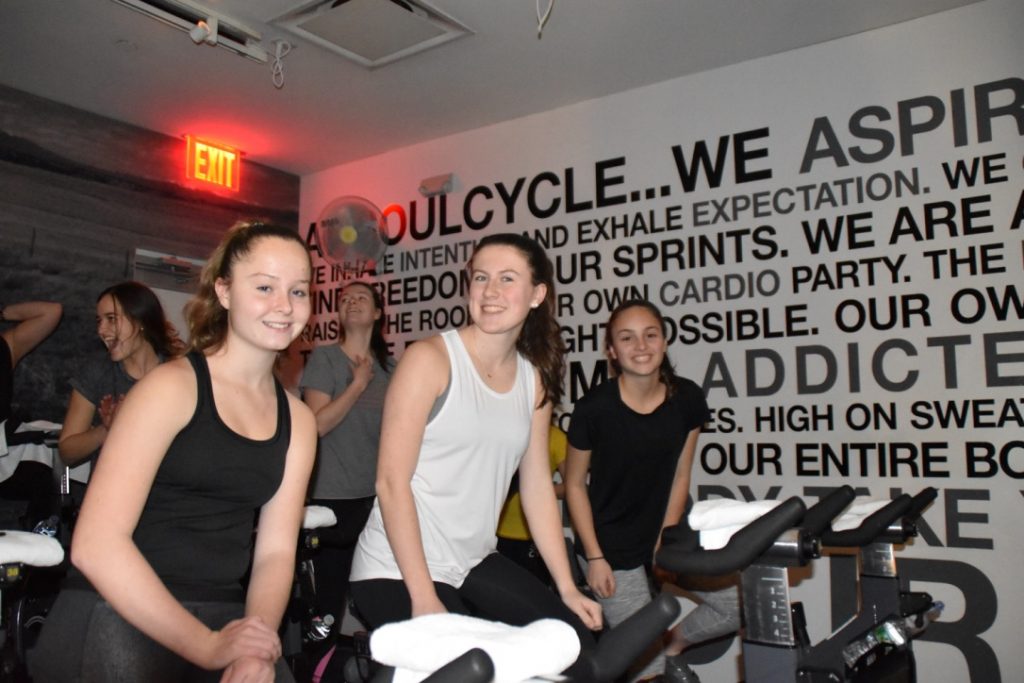 Gambino added, "We know how lucky we are to be healthy, so supporting kids who are our age and younger makes us feel good."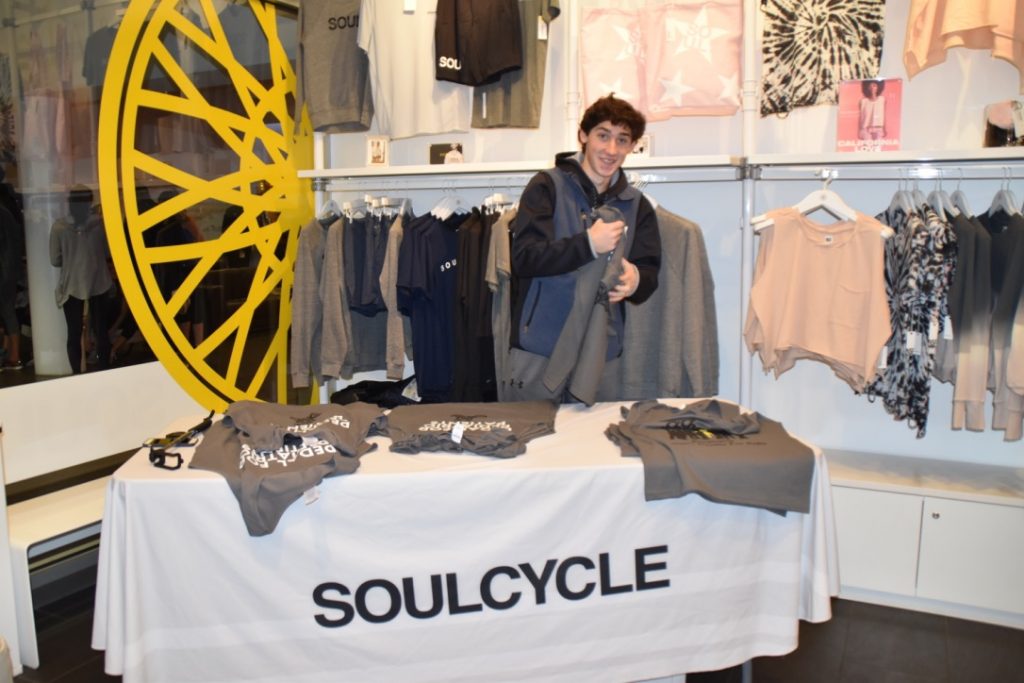 The event is one of a series of annual events that the students support to benefit the local cancer center. "The Miracle Club Dodgeball Tournament is next," said Sweeney. "It's on March 1st in the High School gym." Based on the enthusiasm demonstrated by these generous students, the upcoming event should prove to be as equally successful.
"Teen Project": NYU
Teen patients at NYU Winthrop Hospital once again received special holiday gifts thanks to young members of the local community. Teen Project set a staggering new record of over $15,000 in gift card donations to provide the teen patients of NYU Winthrop's Child Life Program and Cancer Center for Kids with holiday gifts and much needed cheer. Their 2017 initiative nearly doubled in support from the previous year.
Steven and Matthew Spirakis created Teen Project in 2014. The initiative was inspired by the boys' desire to empower local teens to give back. After learning how teen patients could benefit from gift cards as presents during hospital stays, the Spirakis brothers made it their mission to make sure that teens had a variety of gift cards to choose from as their special holiday gift.  "We learned the hospital often receives toy donations for young patients, but seldom receives appropriate gifts for teen patients.  Filling this need was a simple undertaking on our part compared to the afflictions these teen patients must cope with especially during the holidays," said Steven Spirakis.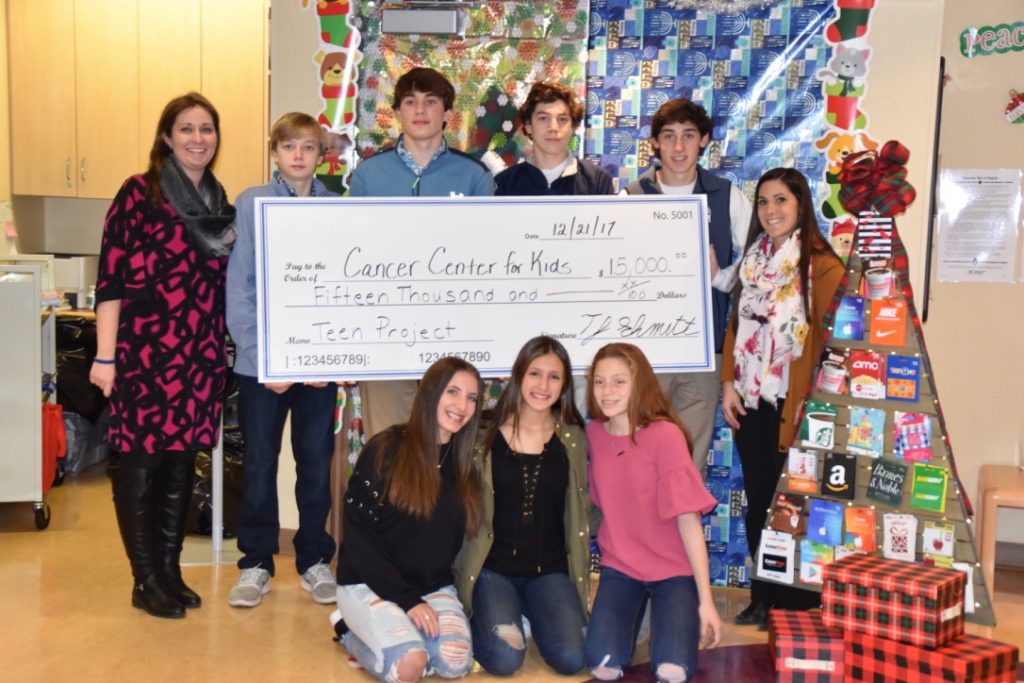 In an effort to expand "Teen Project", the Spirakis brothers were joined by their close partners in this year's initiative: T.J. and Luke Schmitt of Garden City-based Charlie's Champions; Delaney Zander, also of Garden City, NY; and Ashley Kalb and Morgan Mandel of Dix Hills, NY. Just before the holidays, Teen Project delivered their support to NYU Winthrop Hospital, including boxes filled to the brim with assorted gift cards, and a "gift card tree" from which teens could select a gift card of their choosing.
The support from this project will not only benefit patients who are treated at NYU Winthrop's Hagedorn Pediatric Inpatient Unit, it will also impact teen patients at the hospital's Cancer Center for Kids, which provides care to patients battling pediatric cancer and complex blood disorders. The Child Life Department in both areas at NYU Winthrop began distributing gift cards to teen patients before the holidays, and will continue to do so throughout the year. "Teen Project has greatly impacted the holiday experience for our teenage patients for the past several years," said Nicole Almeida, MS, CCLS, Director of the Child Life Program at NYU Winthrop. "The assortment of gift cards is incredible. The efforts of this project have made sure we have something that appeals to every teen we treat, not just for the holidays, but for birthdays and all year-round," said Ashley Carlo, Manager of NYU Winthrop's Cancer Center for Kids.
The Spirakis family has had a long relationship with NYU Winthrop, particularly through their efforts in planning the Hospital's annual Swimathon, which benefits pediatric patients. "I appreciate the work of the Child Life Program, which has an important role in pediatric care for the entire family.  It is humbling to learn about the emotional journeys families face and the creation of this gift giving program presented a wonderful opportunity to show teen patients some compassion," said Beth Spirakis. Matthew Spirakis added,  "Through this campaign I have had the opportunity to work with my peers.  What excites me the most is seeing the campaign grow each year across neighboring communities.  With each donation we receive it helps another teen enjoy the holidays a little bit more."
For the second year in a row, The Charlie's Champions Foundation was thrilled to partner up with the Spirakis family and support the teenagers at the cancer center. The Schmitt family established the Charlie's Champions Foundation, in honor of Charlie Schmitt, who is a cancer survivor and was treated at the CCFK. "Teen Project was another way for Charlie's Champions to directly support the patients. There is a real need for donations that target teenagers and their interests. We would do anything that we can do to make these teen patients forget about how they feel from treatments and make them happier during the holidays and lift their spirits," said Jennifer Schmitt, event coordinator for the Charlie's Champions Foundation.
Community involvement by students has been essential to the success of this initiative with participation by the Miracle Club at the Garden City High School, the National Junior Honor Society students at the Garden City Middle School, 7th and 8th grade religious education students at St. Joseph's Church and St. Anne's Church and students from the South Huntington and Half Hollow Hills School Districts.
"This campaign is very important to me because it allows me to help people that are my age and from my community who are going through treatments during the holidays which can be difficult when everyone is celebrating," said Delaney Zander, student at the Garden City Middle School and St. Anne's Religious Education Program. Similarly, Mrs. Fleming, teacher at Garden City High School and coordinator of Miracle Club, encouraged students from all grades to donate gift cards to support their peers during the holidays. "This project in particular is something that the students felt compassionate about because they themselves could not imagine not being home to celebrate the holidays with their families. Receiving a gift card brings the spirit of the holidays to these teens at the hospital" said T.J. Schmitt, Vice President of the Miracle Club.
Having family members' lives touched by NYU Winthrop's life saving care inspired Morgan Mandel and Ashley Kalb to join Teen Project to provide children battling illness in the hospital with a little bit of joy over the holidays.  Both girls reached out to students in the South Huntington and Half Hollow Hills School Districts to participate in this campaign. Morgan and Ashley also encouraged families to include inspirational notes to teen patients with their donation. "Watching this project grow and meet this need has given us a tremendous sense of personal fulfillment", said Morgan. Ashley added, "We also have a great appreciation of not only what we have but what we can give to others".
As the largest outpatient facility for children with cancer and blood disorders in Nassau County, NYU Winthrop's Cancer Center for Kids is at the forefront of treatment and research, delivering patient and family-centered care in a comfortable, child-friendly outpatient facility. NYU Winthrop's Child Life Program is dedicated to helping children understand and cope with the hospital experience. Certified Child Life Specialists utilize therapeutic play, arts and crafts, entertainment and other diversions to ensure that the hospital experience is as stress-free as possible for children and their families. For more information about the Child Life Program at NYU Winthrop, visit www.winthrop.org or call 1-866-WINTHROP.
It Takes A Village:  Charlie's Champions "Underage In The Cage 2017"
Honoring a longstanding tradition of raising funds and awareness for pediatric cancer, Charlie's Champions Foundation hosted "Underage in the Cage" on March 17th at the Cherry Valley Country Club in Garden City. With a little help from our friends, over 250 kids participated in the paddle clinic and pizza party to benefit the programs and services at the Cancer Center for Kids (CCFK) at Winthrop-University Hospital.
"Underage in the Cage" not only proved to be a fun afternoon and a great way to celebrate St. Patrick's Day, but it also empowered the Foundation's mission to raise money for a wonderful cause. And we couldn't have done it without you!
In our case, it literally took a village. Thank you to our benefactors: Greg Bavario of Garden City Pizza who contributed more than 30 pizza pies for hungry paddle participants; and Paul Bernieri who donated games and entertainment through Game Truck! Special thanks to Manager, Craig Henne of Cherry Valley Club and it's Members for hosting our event. Kudos to the legions of student volunteers and raffle donors whose generosity and hard work played a pivotal role in making "Underage" such an enormous success.
Heartfelt appreciation to our steadfast friends who sponsor us year after year. Your enduring friendship keeps our 'champion flame' burning! Thank you to: Norma and Dennis Tslentis, The Andy Foundation, The Miller Family-National Land Tenure, Sophia and Rob Brivio, Amy and Tim Murphy, Lynn and Brian McGinley, Kathy and Jimmy Connolly, Colleen and Brian Gunn, Christine and Michael Teidemann, Regina and Bill Peters, Rosemary and John Walsh, Jobeana and James Perisa, Jackie and Jimmy Costello, Kathleen Hay, James Vlogianitis., Julie and Dave Boliver, Michelle and Joe Farkas, Sally and Terry McLaughlin, Jane and Woody Horn, Jeanine and Steve Weber, Lucille and Peter Coleman, Barbara and Martin Dehler, Alison and Bill Metzler, Drs. Ruth and Tony Randi, and Marilyn and Drew Going.
Helping to meet the complex issues of pediatric cancer energizes Charlie's Champions and meshes with the CCFK's dedication to fostering hope and healing among young cancer patients and their families. The Foundation will continue to dream new dreams and inspire its community. If you would like to share the Foundation's vision, visit our website at www.charlieschampions.com.